Entrepreneur Who Lost His Business to COVID-19 Starts New Chapter
ENTREPRENEUR, 66, WHO LOST HIS BUSINESS TO COVID-19
STARTS NEW CHAPTER IN HEALTH SERVICES
AS BERKELEY COLLEGE GRADUATE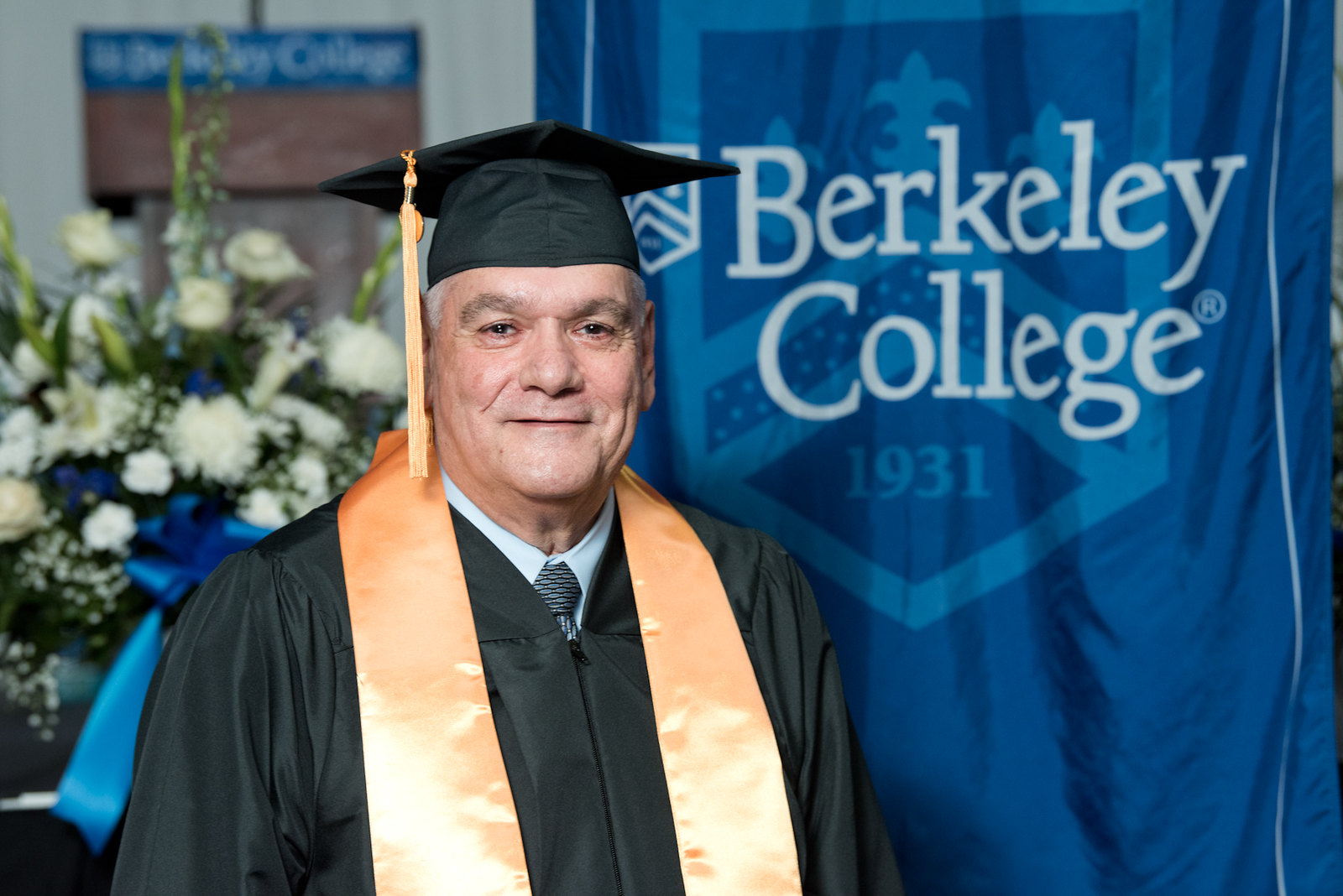 Philip Sanzari owned and operated a commercial and residential cleaning company in Passaic County, NJ, for 23 years, until his business was derailed by the pandemic. 
"When COVID-19 hit, we had to stop working because our clients did not want anyone in their homes or businesses," Sanzari said. "We ended up losing the business that we created and worked so hard on all those years." 
Sanzari responded to his misfortune by going back to college to pivot to a new career. At age 66, Sanzari will graduate with an Associate's in Applied Science in Health Services Administration – Medical Insurance, Billing, and Coding from Berkeley College. He will be crossing the graduation stage on Friday, May 13, 2022, at Prudential Center in Newark, NJ. 
"As a senior you always wonder how you are going to continue to support yourself and not be a burden on anyone," Sanzari said. "I realized I needed to do something to secure my future. For many years, I felt I wasn't smart enough for school, so I never tried. But when up against the wall I had to try. I didn't fail." 
Following Commencement, Sanzari said he plans to move to Biloxi, MS, to pursue a new career in the healthcare industry. 
"I have never been afraid of work, and this experience has given me the confidence to move forward," said Sanzari, a resident of Garfield, NJ. "A new job in a new city and state is scary and exciting, but I feel like I am ready." 
Sanzari, who has been in the workforce for 45 years, said he was encouraged to pursue higher education by his family and friends, and his business and life partner, who is also a Berkeley College graduate. He also received support from Berkeley College professors, who helped him bridge the learning curve from decades out of the classroom. 
Kelly Berge, a Professor in the Allied Health Department, School of Health Studies, met Sanzari in his second semester at Berkeley College. 
"He was an amazing, hardworking student from Day One and took advantage of all of the resources that were offered by the College," Berge said. "I was very happy to see him improve his medical coding knowledge from term to term and I am excited to see his success in the field." 
Sanzari was regularly named to the Berkeley College President's List, and was inducted into the Phi Theta Kappa National Honor Society, which recognizes the academic achievements of students pursuing two-year degrees. 
His favorite memories of his time in college were communicating with his classmates in the online discussion boards, and hearing their stories of inspiration. 
"I was always impressed with my classmates who were trying to get their degrees while working full-time and raising families," Sanzari said. "They were a true inspiration to me." 
His advice to students starting out: "You may be disappointed if you fail, but you will be doomed if you don't try." 
"I have achieved something I never had the confidence to do," Sanzari said. "If you have the opportunity to see something through until the end, do it – you won't regret it. I don't." 
Commencement Interviews: For more information on Berkeley College Commencement speakers, honorees and available interviews, click here.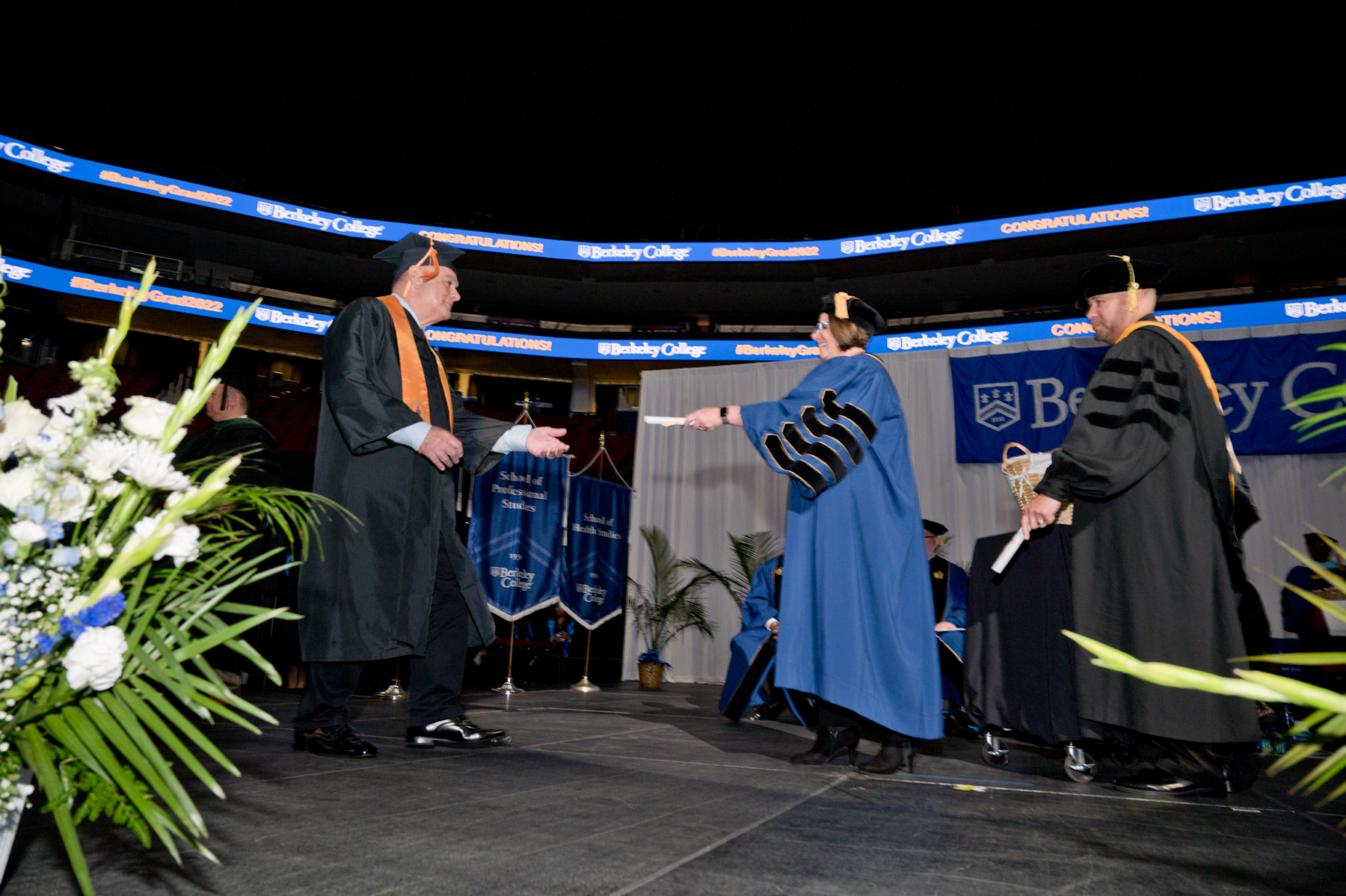 Photo Caption: Philip Sanzari accepts his diploma from Diane Recinos, EdD, President of Berkeley College.
About Berkeley College
Berkeley College, founded in 1931, is a career-focused institution accredited by the Middle States Commission on Higher Education that offers students Master's, Bachelor's, and Associate's degree and Certificate programs in more than 20 career fields. The College also offers continuing education programs to enhance career credentials.
Berkeley College has campuses in Midtown Manhattan, NY, and in Newark, Woodbridge and Woodland Park, NJ, with more than 4,000 students enrolled. In addition, Berkeley College Online® serves a global population. U.S. News & World Report has named Berkeley College among the Best Colleges for Online Bachelor's Programs and among the Best Online Bachelor's Programs for Veterans, for nine consecutive years. U.S. News & World Report named Berkeley College (NJ) one of the Best Regional Colleges in the North in its 2022 edition of the Best Colleges Survey.  In 2021 Berkeley College (NJ) was also recognized for the first time as a Top Performer on Social Mobility among colleges in the region. The website address is http://www.BerkeleyCollege.edu.