Mother of Two Enrolled for a Degree and Discovered a Career Path
'WE CANNOT BECOME WHAT WE WANT BY REMAINING
WHAT WE ARE'
BERKELEY COLLEGE LEGAL STUDIES GRADUATE
AND MOTHER OF TWO ENROLLED FOR A DEGREE AND DISCOVERED A CAREER PATH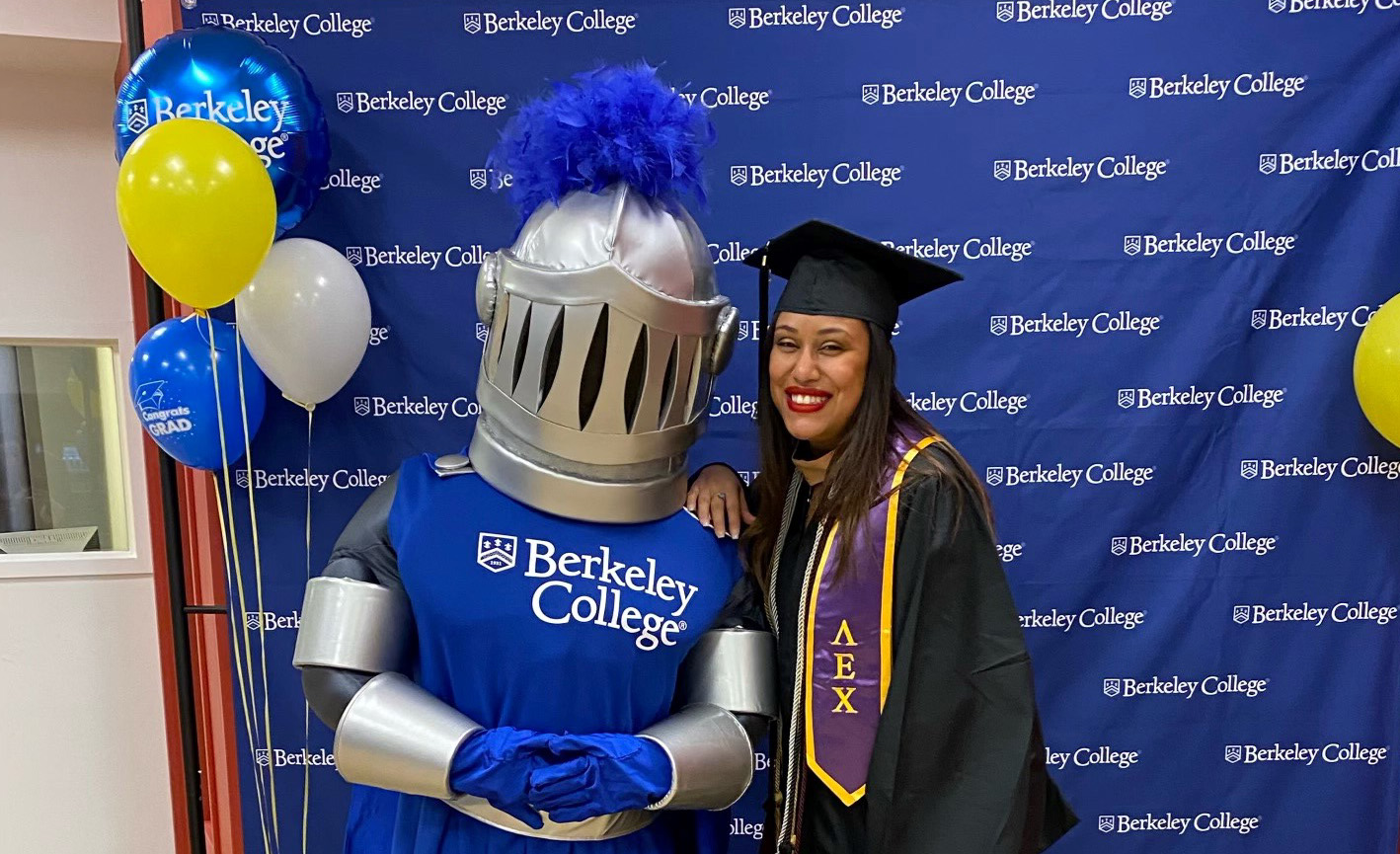 Share the News: @BerkeleyCollege #BerkeleyGrad2022 #NewsBerkeley
Rebekah Andrews-Brannock admits she is "not your average college student." The 34-year-old mother of two returned to school after 12 years, working full-time as a Senior Corporate Paralegal while pursuing her Bachelor's degree. Now, she is on the road to law school. 
"I knew the only way to advance in my career path was with my degree," said Andrews-Brannock, who has worked since 2016 for Marsh McLennan, an insurance broking and risk management company in New York City. 
Andrews-Brannock will receive a Bachelor of Science in Legal Studies at the Berkeley College Commencement ceremony on Friday, May 13, 2022. Her children Alyssia, 14, and Andrew, 7, also inspired her to reach higher. 
"With my daughter starting high school, it was time for me to lead by example and show her she is capable of accomplishing anything she puts her mind to," Andrews-Brannock said. "My son has been a positive light during my journey, constantly reminding me how much he loves me and how proud he is of me in school. I know that because of my achievements he, too, will strive for excellence." 
Andrews-Brannock, a resident of Brooklyn, NY, is a familiar face at the Berkeley College Midtown Manhattan campus, where she served as a student leader and a member of the Berkeley College Legal Studies Advisory Board. She was Vice President of the Berkeley College chapter of the National Society of Leadership and Success, and was inducted into the Alpha Sigma Lambda and Lambda Epsilon Chi national honor societies, which honor high-achieving adult and legal studies students, respectively. 
Among her fondest memories of Berkeley College, Andrews-Brannock recalled her experience with the Black Inventors Hall of Fame Inaugural Design Thinking Collegiate Challenge hosted in Tulsa, OK, in May 2021. Along with a team of Berkeley College students from New York, Andrews-Brannock received an honorable mention for presenting an idea for an app to prevent human trafficking in young girls. 
"I received so much knowledge and so many ideas that I hope to one day campaign to bring justice to these girls/women without voices," Andrews-Brannock said about the event, where she also had the opportunity to meet nationally recognized trial lawyer Ben Crump. 
In October 2021, Andrews-Brannock was selected as the student speaker for Berkeley College's annual Women's Entrepreneurship Week (WEW), where she interviewed keynote speaker Grace Meng, U.S. Congresswoman, 6th District of New York. 
"Programs like Women's Entrepreneurship Week provide students like myself with the courage to push through our many obstacles and challenges to reach our goals," she said. "Seeing strong, accomplished women make strides in the business world is what keeps us inspired." 
Andrews-Brannock said her Berkeley College Legal Studies professors provided reassurance and support in her career journey. 
She quoted American businessman and author Max De Pree: "We cannot become what we want by remaining what we are." 
"My professors encouraged me to want more," said Andrews-Brannock, who is studying for the LSATs and expects to enroll in law school in 2023. "I came to Berkeley only expecting to gain my degree, but I received encouragement to set my expectation in a career path, further than I anticipated." 
"Rebekah is an incredibly talented individual, both in and out of the classroom," said Patricia Greer, JD, Chair, Legal Studies, Berkeley College School of Professional Studies. "The sky is really the limit in terms of her academic and professional potential. Rebekah will be a tremendous asset to the legal profession." 
Andrews-Brannock encouraged current students to make the most of their college careers. 
"I can't say it enough – get involved," Andrews-Brannock said. "Do not hide in the back of the class or behind the screen. Go on campus, get to know other students, meet with your professors, and stop by the Student Development and Campus Life office. The more you are involved, the more your horizons will expand. You will not regret it."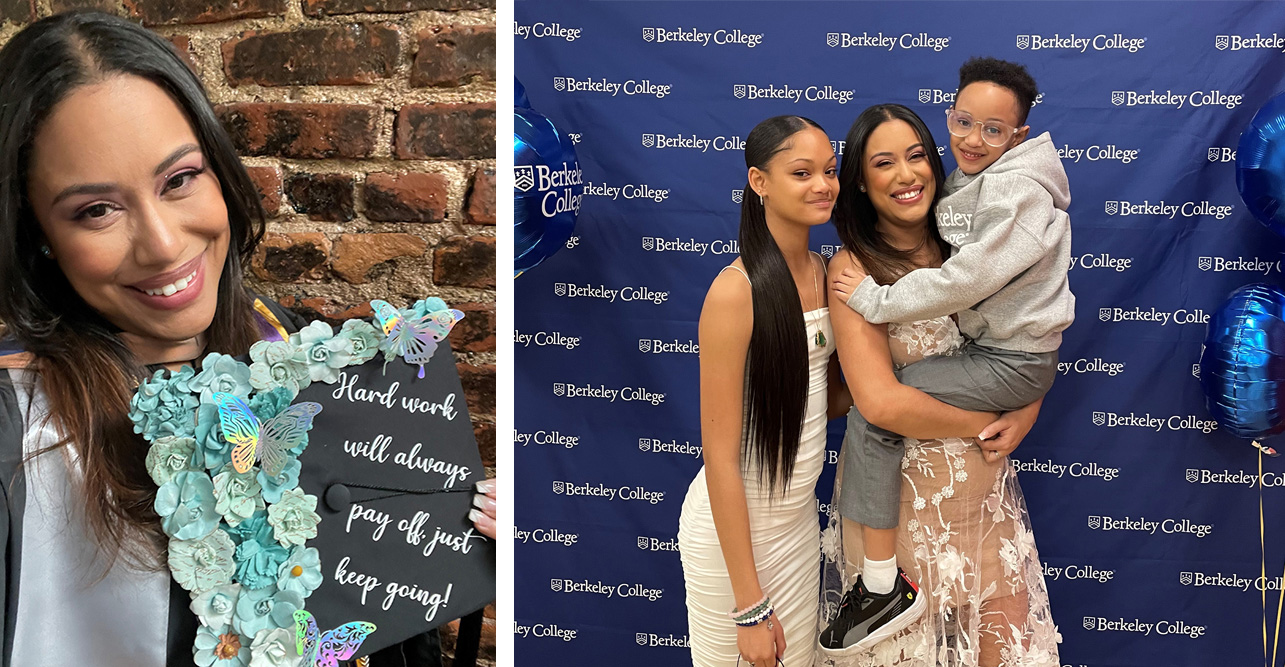 Photo Caption: (Left) Rebekah Andrews-Brannock of Brooklyn, NY, will receive a Bachelor of Science in Legal Studies at the Berkeley College Commencement ceremony on Friday, May 13, 2022, at Prudential Center in Newark, NJ. Her graduation cap reads: Hard work will always pay off – just keep going! (Right) Andrews-Brannock with her children Alyssia, 14, and Andrew, 7, who inspired her to reach higher. 
About Berkeley College
Berkeley College, founded in 1931, is a career-focused institution accredited by the Middle States Commission on Higher Education that offers students Master's, Bachelor's, and Associate's degree and Certificate programs in more than 20 career fields. The College also offers continuing education programs to enhance career credentials.
Berkeley College has campuses in Midtown Manhattan, NY, and in Newark, Woodbridge and Woodland Park, NJ, with more than 4,000 students enrolled. In addition, Berkeley College Online® serves a global population. U.S. News & World Report has named Berkeley College among the Best Colleges for Online Bachelor's Programs and among the Best Online Bachelor's Programs for Veterans, for nine consecutive years. U.S. News & World Report named Berkeley College (NJ) one of the Best Regional Colleges in the North in its 2022 edition of the Best Colleges Survey.  In 2021 Berkeley College (NJ) was also recognized for the first time as a Top Performer on Social Mobility among colleges in the region. The website address is http://www.BerkeleyCollege.edu.