Berkeley College Commemorates the Life of Martin Luther King, Jr. Through Social Media and Virtual Events
BERKELEY COLLEGE COMMEMORATES
THE LIFE OF MARTIN LUTHER KING, JR.
THROUGH SOCIAL MEDIA AND VIRTUAL EVENTS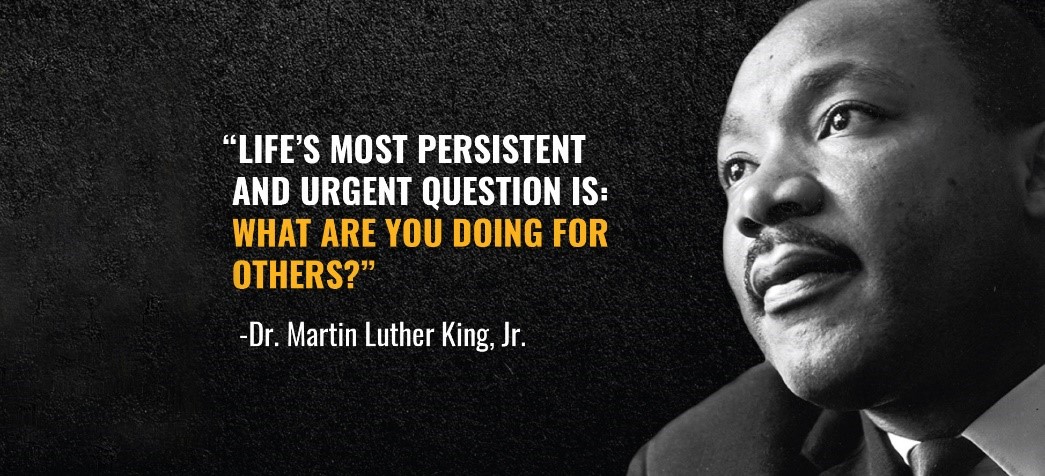 Share the News: @BerkeleyCollege #MLKDay #MLKDayofService
The Martin Luther King, Jr. holiday on January 18, 2021 is the 26th anniversary of the day of service that celebrates his life and legacy. Berkeley College students, faculty and staff are commemorating his impact through social media and virtual events in January.
Dates: January 18 – 22
Name: I Have a Dream
Time: All week
Description: Martin Luther King, Jr. had a dream of equality, respect, acceptance and unity. Students and associates are invited to share their dreams on the Berkeley College virtual Padlet.
Join Us: https://padlet.com/christin_andrasci/7oqh2j5ukfg41isl
Date: January 18
Time: All day
Name: Martin Luther King Day of Service
Description: To commemorate Dr. King's legacy, volunteer within your local community. Click on the link to find volunteer opportunities in or near your community:
Join Us: https://www.nationalservice.gov/serve-your-community/mlk-day-service
Dates: January 18 -21
Name: Travel Channel – a Journey with Dr. Martin Luther King, Jr.
Time: All week
Description: The Student Development and Campus Life Travel Channel on Yammer traces Dr. King's travel through the places he visited during the Civil Rights movement.
Join Us: https://berkeleycollege.libguides.com/ld.php?content_id=59222670
Date: January 21
Name: Let's Chat – What is your Dream?
Time: 5:30 p.m.
Description: Students are invited to participate in an open discussion about Dr. King's "I Have a Dream" speech and its relevance in today's society. Participants can share their dreams and aspirations as they reflect on the true meaning of equality, respect, acceptance and unity.
Join Us: https://berkeleycollege.zoom/us/j/96905154738/ Meeting ID 969 0515 4738
For questions about these events, please contact Sherrille T. Shabazz, EdD, Associate Dean, Student Development and Campus Life, Berkeley College, srh@BerkeleyCollege.edu.
Berkeley College celebrates its 90th anniversary in 2021. The theme commemorating this milestone is "Empowering Lives for 90 Years!" Visit the 90th Anniversary webpage for more information.
About Berkeley College
Berkeley College, founded in 1931, is a career-focused institution accredited by the Middle States Commission on Higher Education that offers students Master's, Bachelor's, and Associate's degree and Certificate programs in more than 20 career fields. The College also offers continuing education programs to enhance career credentials.
Berkeley College has campuses in Midtown Manhattan and White Plains, NY, as well as in Newark, Paramus, Woodbridge and Woodland Park, NJ, with more than 4,900 students enrolled. In addition, Berkeley College Online® serves a global population. U.S. News & World Report has named Berkeley College among the Best Colleges for Online Bachelor's Programs and among the Best Online Bachelor's Programs for Veterans, for seven consecutive years. The website address is www.BerkeleyCollege.edu
The mission of Berkeley College is to empower students to achieve lifelong success in dynamic careers.