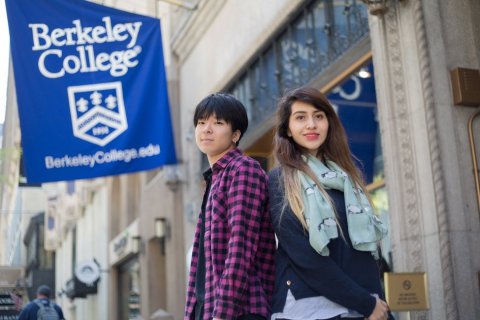 Welcome to Student Development and Campus Life
Student Development and Campus Life (SDCL) at Berkeley College works to provide a safe and secure environment that fosters students' intellectual, psychological, physical, social, and professional development. A diverse range of programs, activities, and services are designed to enhance the student experience.
Commencement 2022
Berkeley College is thrilled to announce that we will hold an onsite Commencement Ceremony for 2021 and 2022 graduates on Friday, May 13, 2022, at the Prudential Center in Newark, NJ. Information regarding transportation, guest, and safety protocols will be announced when they become available.
In addition to the onsite commencement ceremony, we will be hosting a virtual commencement. Our Virtual Commencement Ceremony will take place on Friday, May 13, 2022, for the August 2021, December 2021, and April 2022 graduates. In addition to recognizing our graduates, the event will include special guest speakers. Your family and friends are encouraged to virtually join in the celebration.
The onsite graduation ceremony will follow health and safety guidelines from public health agencies. More details coming soon!
Please check the Commencement 2022 page on the Berkeley College website for the most up-to-date information. Due to the ongoing COVID-19 pandemic, dates and times are subject to change.
Student Handbook

Student Handbook
Know your rights and responsibilities as a student.
Welcome to the start of a new academic year! Whether you are just beginning, at the midway point, or close to graduation, college is a time for embracing new experiences, overcoming obstacles, and achieving your goals. I hope that throughout your time here at Berkeley College you will be committed to excelling academically, getting involved, and making the most of the many people, services, and resources that Berkeley offers.

Student Rights and Responsibilities
Student Conduct
Students are expected to abide by all public laws; to comply with the policies, procedures, and rules of the College; to obey any lawful directive of an authorized member of the Berkeley College faculty or administration; to provide true and complete information to the College when called upon to do so; to promote the safety of the College community; and to demonstrate a positive attitude, diligence, and courtesy toward faculty, staff, and fellow students.